An event marking World No Tobacco Day took place at the People's Palace of Culture on Wednesday.
It was attended by public health workers and officials of the relevant units and the representative of the WHO, and members of other international bodies here and foreign embassy officials.
Speeches were made there.
Referring to the subject of nonsmoking campaign set forth by the WHO for this year, the speakers said that smoking causes various diseases and seriously damages the human health and adversely affects the social and economic life.
They underlined the need to intensify the scientific researches into development of more tobacco substitutes and tighten the control over smoking in public centers.
Then, a briefing was given on the amended and supplemented tobacco control law of the DPRK.
The participants watched a video showing harmfulness of smoking and an art performance given by students of Kim Hyong Jik University of Education.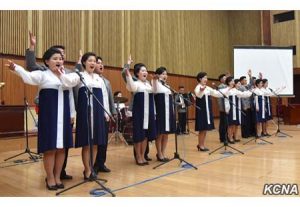 Meanwhile, nonsmoking campaign was conducted at the central and provincial hygienic information service centers and preventive and curative institutions.